The Earliest Years
A Public Meeting was called on 1st December 1958 to discuss the possibility of acquiring land for a recreational ground in Mangawhai Village. A suitable piece of land was found on Moir Road, owned by Mr. & Mrs. Obrist, who lived in the cottage that is now the Plunket Rooms, as shown in minutes taken on that day.
The people of Mangawhai and Districts of Te Arai, Hakaru, and Tara, were canvassed for funds and their generosity was incredible.   61 people donated enough money to pay half the amount owing for the land, and a Bank Loan would be raised for the second half.  See minutes of 26th January 1959.
A Committee meeting straight after the Public Meeting was held and the first steps taken to raise the funds required to buy the land, which had been bought for One Thousand, Five Hundred pounds ($3000)  The areas (zones) were allocated to Members to canvass.
The amount of Eight Hundred pounds was paid – see minutes of 3rd February 1959.
On 25th May 1959 a Committee Meeting was held to discuss the formation of a Incorporated Society.   Below is the original list of the Members. Copies of first Income & Expenditure showing the money paid to Mr & Mrs. Obrist and "Donations" received from the Public.
Now that the land was purchased, the Committee had to decide what to do with it!
The land Title and Historical information can be viewed here
On 4th May 1960 an inspection of the grounds was made by R. King, N. Hastie, W. Phillips, W. Moir, and V. Radich, with a view to sort out what to put where, and general future layout.
The land was let for grazing, and fencing was undertaken.  Working bees were held to clear land, and tidy fences etc. and recorded in the minutes.  Notice the cost of 40 pounds ($80 approx.) for two months grazing.  Posts and battens were obtained (see minutes) but they must have been donated – because the only fencing expenses appearing in the expenditure for this year, were "staples" costing nine shillings and four pence.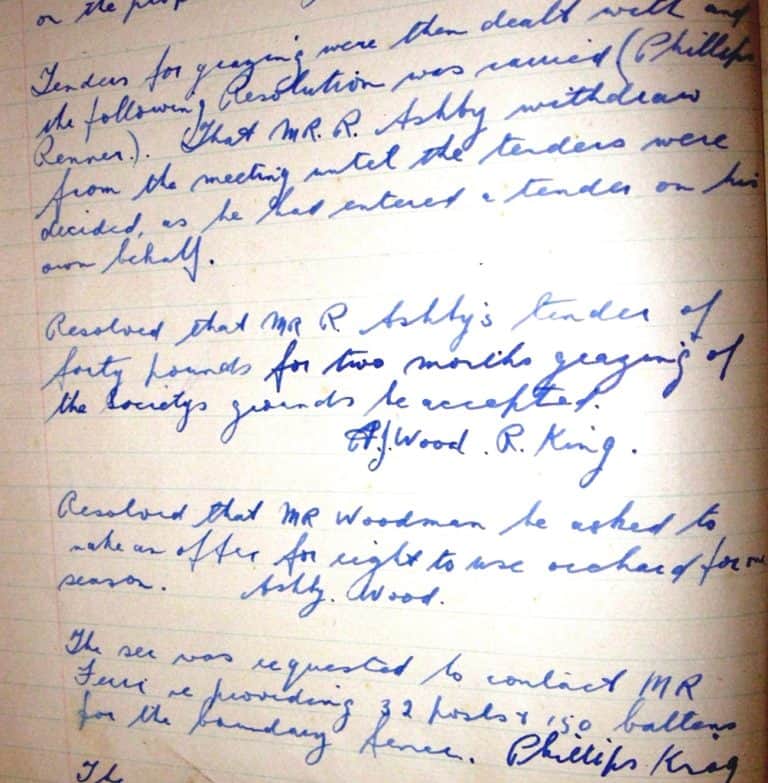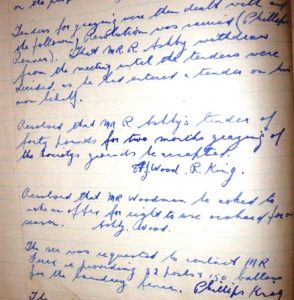 ---
THE FIRST ANNUAL GENERAL MEETING  (1960) was held on 9th June 1960 in the Mangawhai Library Hall.   Members selected for the Committee, were Chairman C. H. Singleton, Vice Chairman C. L. Carter, Secretary/Treasurer H. N. Duxfield, Auditor, Mrs. A.G. Hopkins, Committee Members x 6 were W. Moir, C. L. Carter, W. Phillips, R. King, R. Ashby, A. J. Wood, E. Renner, and W. Phillips.
Membership for the year ended 31.3.60 was 61 people.   During this period, a lot of work was done on the land by local farmers, repairing fences, removing rubbish, but no records were kept of the hundreds of hours of voluntary work done, but without these generous pioneers, we would NOT have a Domain or Domain Pavilion as we have now.
The next Committee Meeting was held on Thursday 9th June 1960, in the Mangawhai Hall.   Interest was being paid to Mrs. Obrist on the purchase of the land, a working bee was to be held on Thursday 16th June 1960.   Meeting on 7th February 1961, was the only other meeting prior to the 2nd Annual General Meeting on Friday 22nd September 1961. Mrs. Urlich was to be charged 15 shillings per week to graze the orchard until further notice, and Ken Leslie was approached re bulldozing on the grounds.
Elected Officers for 1960    Chairman – C. H. Singleton, Vice Chairman C. L. Carter, Treasurer .H. N. Duxfield, Auditor Mrs. A.J. Hopkins. Committee, W. Moir, C. Carter, W. Phillips, R. King, R. Ashby, A. J. Wood, E. Renner, & W. P. Phillips
---
2ND ANNUAL GENERAL MEETING  (1961) was held on Friday 22nd September 1961 at 8:00 p.m. in the Mangawhai Hall.   1961 saw the membership drop from 61 down to only 8 financial members (who donated 68 pounds.)  Grazing brought in Fifty Four  pounds.
Elected Officers for 1961.   Chairman C. L. Carter, Vice Chairman R. N. Hastie, Secretary/Treasurer H. N. Duxfield, Committee Members, E. Renner, J. Wood, W. Moir, D. C. Cullen, G. Davies, and H. Denize.
Grading and rotary hoeing for 1961 was Fifty Six pounds, this was paid to Rodney County Council, and rotary hoeing to Ken Leslie?  A very simple BALANCE SHEET!!
The next meeting was held on 22nd September 1961, straight after the AGM, where tenders were called for grazing, for the next four months. An account for payment to Ken Leslie was passed for payment for work on the grounds. Nothing else of note.
---
3RD ANNUAL GENERAL MEETING (1962)
During the year ended 31st March 1962 there was only one paid up member, Mr. C. H. Singleton, who made a donation of Fifty pounds. The Boy Scouts used the Domain (I think there was some sort of little shed there) for storing newspapers they collected to sell for funds, and donated Five pounds Eleven shillings and Nine pence to the Domain. Other income for this year was from grazing.
Expenses were Ken Leslie for bulldozing, C. Cowdrey for bulldozing, Bank Interest on Loan, and general expenses.
At this Annual General Meeting a committee member Mr. W. Moir suggested that it be recommended that the incoming committee start ANOTHER DRIVE to collect enough funds to pay off the Bank Loan on the Mortgage to Mrs. Obrist. Also decided that the back portion of the grounds be fenced off. And it was planned to graze this area with sheep if possible.
ELECTED OFFICERS 1962. Chairman C. L. Carter, Vice Chairman R. N. Hastie, Secretary / Treasurer H. N. Duxfield, Auditor Mrs A. Hopkins, Committee Members W. Moir, H. Denize, C. Murray, J. Wood, R. Wintle, E. Renner.
---
4th ANNUAL GENERAL MEETING (1963)
Held on Wednesday 3rd July 1963 at the Mangawhai Hall.
During the last 12 months there were NO PAID UP MEMBERS, but income was derived from a donation from the Mangawhai Athletic Club, and a Grant from the GOLDEN KIWI lottery (predecessor to LOTTO) There were 13 people at the AGM.
Expenditure was for general/stationery etc. and ground development expenses, Somner & Sons for leveling, Dairy Co. for fertiliser, posts, grass seed and bank interest.
Balance sheet only showed Liabilities for Mortgage of Seven Hundred pounds, and Bank account, Land as assets.
In November of 1962, fences were erected between the front and back areas of the grounds, the developed area, and the un-developed area. Topdressing etc was carried out. Eastern Rugby Football Club requested the use of the fields for the 1963 season and that was agreed to, for the sum of one pound ($2) per day. Also at this AGM it was resolved that Cricket members could use the fields as required for one pound per day also. So during the early Sixties the ground was used for rugby in the winter and cricket in the summer. A Circular letter was sent to all permanent residents of Mangawhai outlining the Domain Society's proposals to raise funds to enable the mortgage to be paid off. Expenses from 1963 Income & Expenses Account.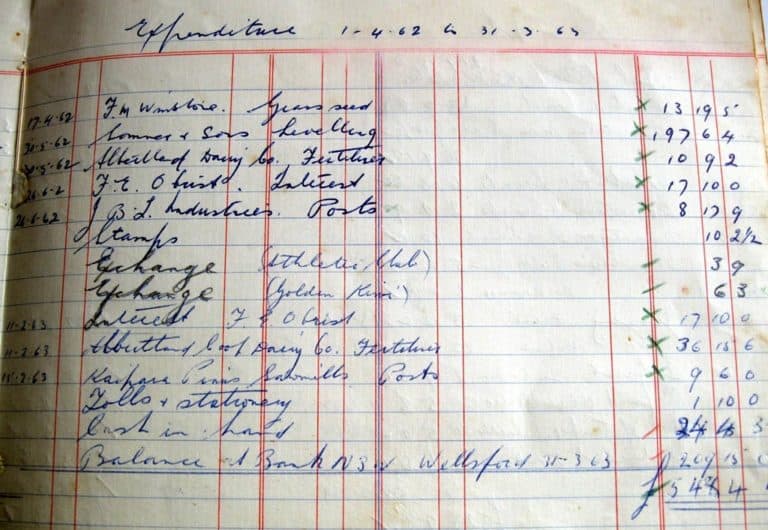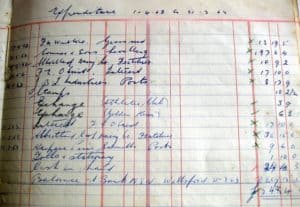 ELECTED OFFICERS 1963 Chairman C. L. Carter, Vice Chairman R. N. Hastie, Secretary / Treasurer H. N. Duxfield, Committee Members, R. H. Denize, C. Murray, J. Wood, R. Wintle and E. Renner.
A Committee meeting was held on 7th April 1964, where the Secretary was instructed to get a Government Valuation of the land. The following Committee members were asked to canvas the Mangawhai and adjoining areas of Coal Hill, Hakaru, Tara, & Molesworth to get more funds. The 4 members asked to do this were W. Moir, E. Renner, D. Denize, A. Wood. The secretary was instructed to contact the Secretary of the Cricket Club (H. Hill) regarding the number of games played on the grounds during the last season, and requested that the wicket be re-turfed.
---
5th ANNUAL GENERAL MEETING (1964)
This was held at the Mangawhai Hall of Tuesday August 1964. It was decided to pay off the Mortgage on the land, by way of a Bank Overdraft. No other business – Committee Members voted in were, R. Hastie, C. L. Carter, H. N. Duxfield,
W. Hastie, W. Moir, E. Renner, R. Wintle, D. Denize, and J. Wood. From the Receipts and Payments Account, it would appear that in this year there were only 3 paid up Members. Donations were received from the Scout Club, and other Income was earned from Grazing, sale of timber, & interest. Payments included Hall Hire for the Mangawhai Hall of One Pound, gates, pipes, timber, fertilizer, and general bits and pieces.
A Committee Meeting was held at the grounds, to discuss a tender from Mrs. K. Urlich for grazing the back part of the Domain. This was passed at the agreed rate of Thirty Pounds ($60.00) for 12 months. At this meeting it was also agreed that the Society supply wire, battens, staples and labour, to re-new the boundary fence.
---
6th ANNUAL GENERAL MEETING (1965)
Held in the Mangawhai Hall 29th June 1965.
The Secretary (Mrs. J. Wood,) was instructed to apply to the Otamatea County Council for any available funds to erect a Pavilion on the Society's grounds. In this year's Financial it appears that the drive to get extra funds worked, because there were 25-30 Members paid up with Donations etc. People also donated cows and calves at this time. There was enough income from this income together with Raffles, Sale of Hay, Grazing, Bank Interest, and the sale of donated stock, to enable the Committee to repay the Mortgage on the land of Seven Hundred pounds ($1500.00) leaving only a slight overdraft of One Hundred and Fifty Nine pounds and Eight pence at the end of the financial year.
The Domain was plodding along nicely, with voluntary help, a good working Committee, having only the one Meeting per year, and the general Public were again taking an interest in the proceedings. This was the first suggestion of a permanent building on the Domain.
---
Nothing much seemed to happen during the period from June 1965 (last A.G.M.) until the next Annual General Meeting held on Wednesday May 24th in 1966.
---
7th ANNUAL GENERAL MEETING
This had a very small attendance, and nothing of note was discussed or passed. The sitting Committee were all re-elected, and the Financial Accounts were presented. The only income was Donations of Twenty Five pounds, Ground fees from United Football Club, and grazing of the back part of the Domain. Assets were the land One Thousand, Five Hundred pounds, and there was a small overdraft at the bank of Ninety Seven pounds.
This page shows the TOTAL income and Expenses for the time the Domain came into being – until end of Financial year 31st March 1966. Loving the remark on the bottom of the account to the Rugby Club! Things don't really change.
---
THE NEXT COMMITTEE MEETING was held in the Citizens Rooms on Wednesday 16th August 1967.
At this meeting the Citizens Club offered to pay for trees for the frontage boundary, and the Secretary was requested to order the trees. General business and a working bee in September. The only income received for this year was from grazing. There were NO paid-up members, (There were only 3 last year) The only major expense was for gorse spraying by the Otamatea County Council – payment of Fourteen pounds, Twelve Shillings and Six pence.
A FURTHER COMMITTEE MEETING was held at the residence of the Secretary, on 31st October 1967, where a date was set for the working bee on Tuesday 7th November 1967, to erect fencing on the bottom boundary. The only other matters discussed were the state of the playing field, possible future hay crop, fencing programme, possible use of an old shed on the property. On 21st November 1967 members of the Committee met with Council Representatives at the Domain and inspected the playing fields. They were advised by the Council to re-new their request for help with funding.
On 28th November 1967 there was ON OPEN MEETING HELD AT THE MANGAWHAI HALL. This was held at 9:15 p.m. following the "winding-up" of the Mangawhai Athletic Cub. Approximately 18 people attended this meeting.
After open discussion with the County it was resolved to improve the playing field, and Somners of Waipu were asked to inspect the grounds and ascertain costs involved for the up-grade. The committee were asked by the Scouts Assn. if a building could be placed on the Domain, and the Committee agreed to give it favorable consideration. Tenders were sought for the hay grown. Copies of letters regarding the Athletic Club, and letter to Somners at Waipu.
The next meeting was not until 3rd July 1968.
---
8th ANNUAL GENERAL MEETING Wednesday 3rd July 1968
The following people were elected to the Committee: Chairman Hastie, J. R. Brown, C. Carter, W. Hastie, R. Denize, J. Wood, T. Chitty, M. Whynn, C. Paul, J. Leiser, R. Bull, John Wintle, B. Philllips, M. Arlidge, M. Simmonds, R. Wintle & ( total of 16, with a qorum of 8) A donation was made of $100 towards the expense of purchase & removal of the old Tara School, tenders closing of 10th July 1968. This was vetoed, as the Committee felt all efforts and funds should be put towards a permanent building. A meeting was called for ASAP, to formulate a plan of action. Total attendance at this meeting was 23. Income for year ended 31st March 1968 was received from:
Mangawhai Athletic Club (Closed Bank Accounts) $204.00, Calves, Ground Hire, Hay & Grazing, and Members donations (18 members) totaling an income of $900.24 Expenses for this year were $405.21 – leaving the Bank Balance at $495.30.
At a Committee Meeting on 1st August 1968 it was decided to formulate a building plan, and a further meeting was called on 8th August 1968, Amended plans for consideration of County Building Inspector, and committee members gathered at the Domain to select the site of the proposed building. After a wide-ranging discussion it was resolved that the Committee adopt a plan submitted by Mr. J. Wintle for approval. Toilet facilities be at the rear, and a general purpose large room.
At the next Committee meeting of 5th December 1968, it was decided to have plans drawn up, and the costs estimated. A building permit was to be applied for. At the next Committee meeting 23rd December 1968, plans were to be drawn up for a building, with concrete blocks, iron roof, and aluminum joinery. Also, the grounds to be fertilised and grass seed sown.
At a meeting on 23rd April 1968 it was decided, to send a delegation to the Council to take over the Domain. This delegation consisted of P. Whynn, H. Denize, & C. Paul. Questions needed to be asked were as follows – recorded in the minutes of this meeting. The next meeting was held on 15th May 1969, where the results of the deputation to the Council was discussed, and their suggestions to the Committee members.
---
9th ANNUAL GENERAL MEETING 25th JUNE 1969
19 members were elected to the Committee. Otamatea County Council have donated $2000 towards the building. Also, the Secretary was asked to get in writing the amount Eastern Rugby Football Club were willing to donate. Letters requesting funding were from Golden Kiwi Trust, Lands & Survey Dept., Auckland Stock & Station Agents, Rothmans, Auckland Savings Bank, and Petroleum Companies.
Election of Officers was, Chairman P. Whynn, Dep. Chairman N. Hastie, Secretary J, Wintle. Committee members, Roberts, Aldridge, Simmonds, Mutch, Denize, Phillips, Alexander, Lewers, Wood, Carter, Paul, Chitty, Bull, Brown, Hastie, A. Wintle. (total of 19) Cost of hiring the grounds for a day was set at $2:00
The Annual Financial Accounts showed Assets of $3709, no liabilities. Income was derived from Grazing, sales of hay, but no members donations.
From this AGM to the next AGM on 16th July 1970, there were 3 meetings, mainly discussing ways and means of raising money to pay for the building. One idea seems to have been to sell some of the land to the Lands & Suyrvey Dept., but this was not followed through. Raffles and rugby matches were discussed. Owing to lack of members, it was decided to run the Domain 1 – 2 years, and then make a decision as to what to do with it.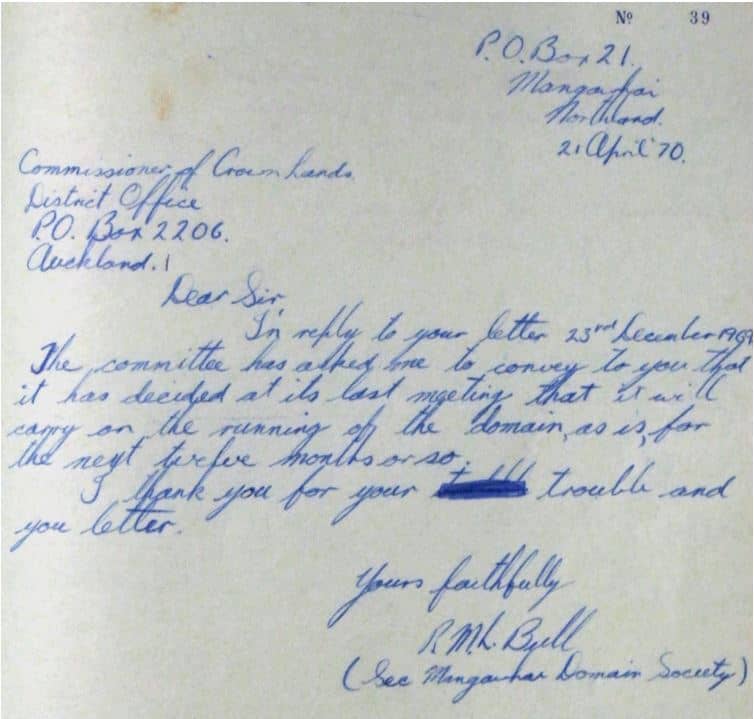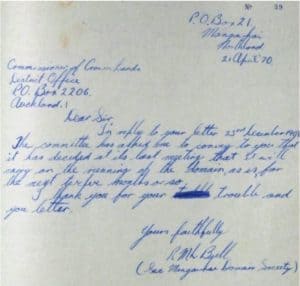 10TH ANNUAL GENERAL MEETING 16th JULY 1970
Election of Officers: Chairman P. Whynn, Dep. Chairman N. Hastie, Secretary R. Bull, Committee Mrs. Woods, Denize, Ferris, Chitty, Wood, Carter, Mutch, Parnwell, Paul, Alexander, Roberts, Davies, Wintle (Everybody that was at the meeting)
The only happenings at the Domain for the past year, was a working bee on the front tree-line, 2 friendly rugby games, (married v single, and a ladies match.) It was also decided that the building project was out of our reach at the moment.
There was no Balance Sheet done for this year, but the Income is shown as $662.55 from Interest, 2 Rugby matches, Ground Hire of $10 and grazing. Expenses were $46.32 mainly made up of Fertiliser, and some small Secretaries expenses. Closing Bank Balance was $616.23. Also, there were no Members Donations.
The next Committee Meeting was held in the Mangawhai Library Hall on 2nd November 1970. At this meeting it was agreed to install Power to the water pump, and to call for tenders to graze the back eleven acres of the Domain, for 3 years, and to fertilise it, and pay for half of the power. The front section to be grazed at the discretion of the Committee. 30th November 1970 saw a further Committee meeting in the Mangawhai Library Hall, Spraying of the gorse on the back section has been completed at the cost of $15 for labour, and $4 for the spray. A tender to lease the back section was won by a Mr. E.L.Stone. There were 4 tenders received in total. The cost of leasing for 3 years was set at $80.00 per year, and the lessee was to put fertilizer on 3 times in the 3 years of the lease running, and leave the land in the condition that he found it. The next meeting was the 10th Annual General Meeting held at the Mangawhai Library Hall on 24th June 1971.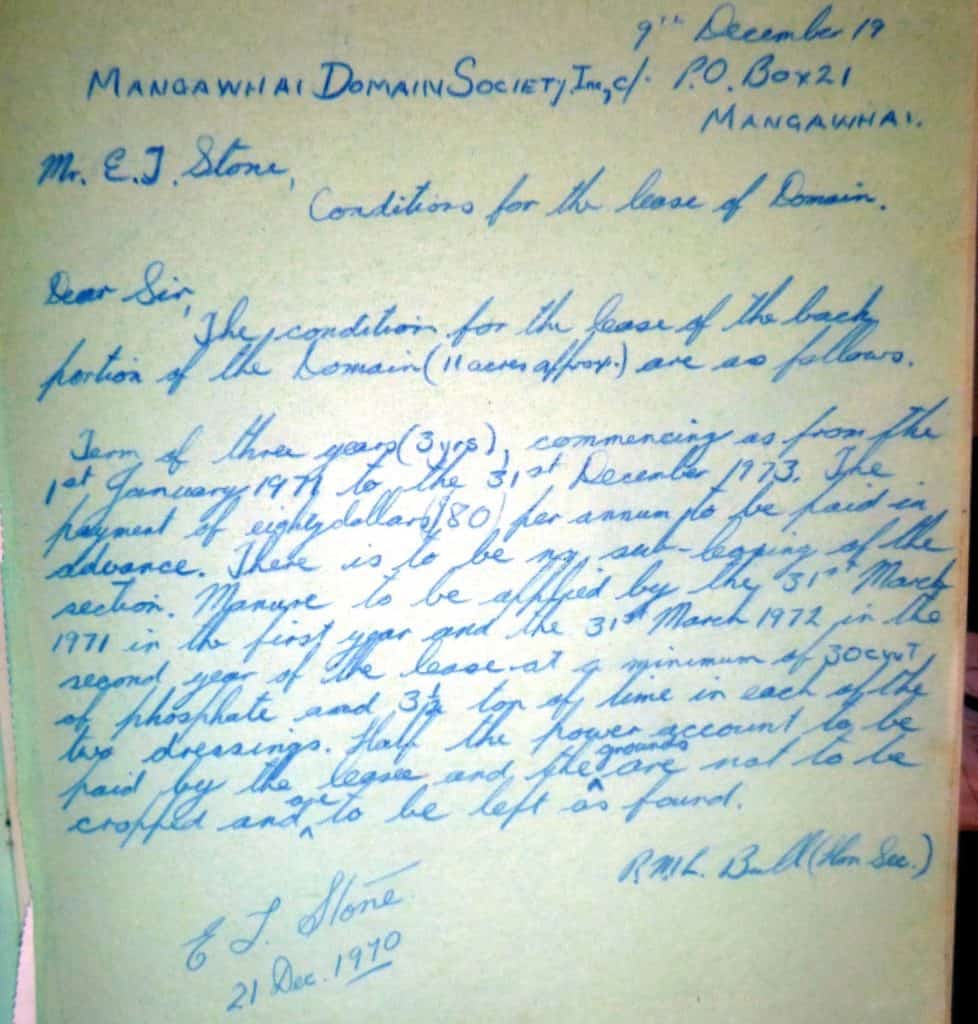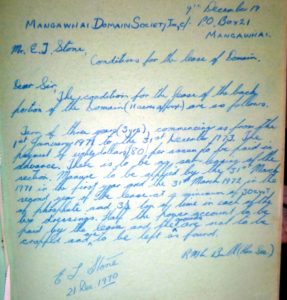 Financial Report showed that the Domain had received $80 from lease of back section, and Grazing $10 from the front. Interest received was $14.38. Expenses were Power installation$195.69, rent paid for Hall Hire $4, and the closing balance at the end of 1971 was $523.92 Election of Officers resulted in the Chairman Denize, Vice Chairman Wood, Secretary R Bull, Committee members,Davis, Mrs. Wood, Alexander, Chitty, Lewis, Ferre?, Roberts, Chaffe and Paul, John Wintle, and N. Hastie. Auditor was Mr. Davis.
The matter of toilet facilities to be established on the Domain grounds was discussed, and it was agreed that if the land was required for Public Toilets the land at the Domain would be made available. Arrangements were made to spray gorse on the land.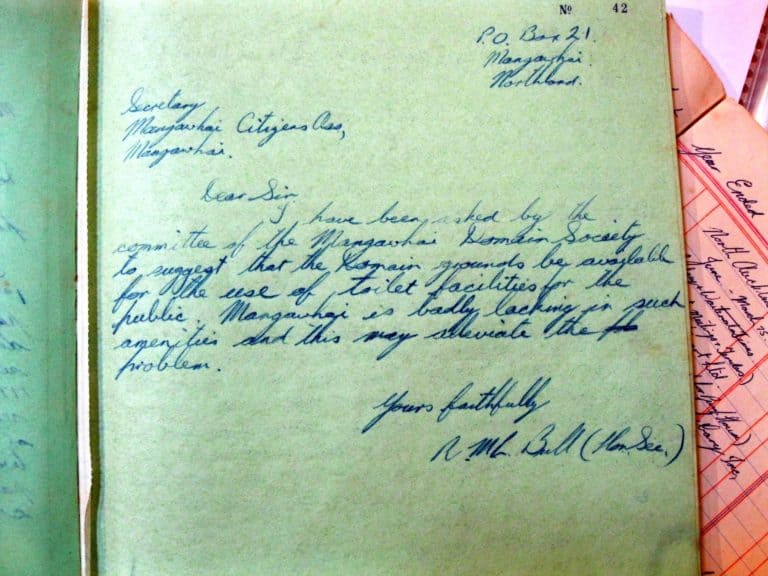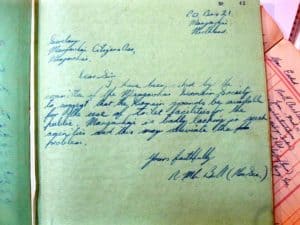 ---
NO ANNUAL GENERAL MEETINGS WERE HELD FOR THE YEAR ENDED 31ST MARCH 1972, OR 1973.
Financial accounts for year ended 31st March 1972, showed an increase in there Bank Balance up to $533.73 which was from Grazing and interest, and expenses of Power, gorse spraying and advertising.
---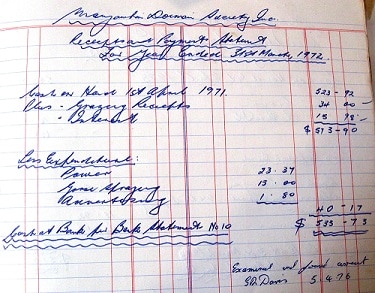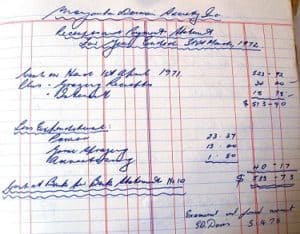 The 10th Annual General Meeting was held of 27th February 1974.
Chairman's Report stated that there had been one game of football on the Domain, and that the SCOUTS had had a shed there to collect paper & bottles, but this has now been removed. He also noted the passing Mr Hastie, who would be missed on the Domain Committee. Pumphouse needs repair, and spraying to be done for weeds. A new motor has been fitted to the water pump. The back part lease has expired.
Balance at end of 1974 was $622.19 which was gained from $220.00, Interest $25.12, and expenses for 1973 and 1974 were Pump maintenance $79.72, Power $13.92, Fertilizer $43.42, Power $15.10, and general and Bank charges was $4.50
Committee elected was Chairman – Denize, Secretary Bull, Committee Murray, Wood, Mrs. Wood, Davis, Chaffe.
General Business: Tenders to be called to graze the back part. Suggested term of 5 years, and that first 2 years be free other than paying for half of the power. Back fence needs to be cleared and kept tidy.
Meeting held at Mangawhai Hall 27th March 1974
This meeting was to discuss the lease of the 11 acres to a Mr. Chaffe. Conditions decided were that if the clearing that was agreed to was not completed in the first 2 years Mr Chaffe would have to pay $120 per tear for those first 2 years instead of having them for Free. Lease for 5 years was signed on the first of April 1974.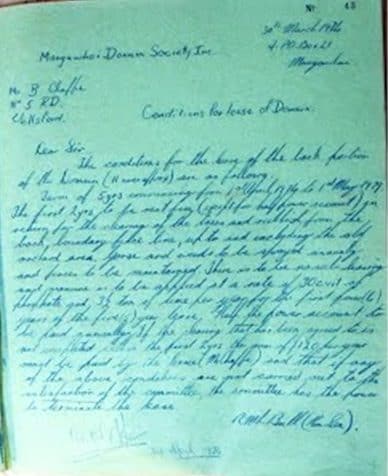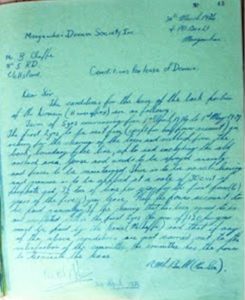 11th ANNUAL GENERAL MEETING was held on 6th APRIL 1976
Bank Balance was $622.19. Income for years ended 31st March 1974 and 1975 from Interest $44.08, & Grazing $98.10, and Expenses Power $28.19, Advertising $5.35, Materials to repair Pumphouse $80.00, Mangawhai Cricket Club $18.00, Hall Hire $2.00, leaving a balance of $666.83 at the 31st March 1976.
Chairman's Report stated that the grounds had been used by the Mangawhai Cricket Club, and a couple of barbecues. He thought that there was a renewed interest in the Domain after 5 -6 years where there was no support. He praised the foresight of the people who put all the hard work into buying this land for future generations of people in Mangawhai,way back in 1958.
He said…..
WE OWE OUR THANKS TO THE INITIATIVE AND WORK OF THOSE PUBLIC MINDED CITIZENS WHO, WHEN THIS LAND BECAME AVAILABLE IN 1958, ORGANIZED MEETINGS AND THE SETTING UP OF THE MANGAWHAI DOMAIN SOCIETY INC. AND DEVELOPED THE GROUNDS TO THE STAGE THAT THE DISTRICT HAS SEVENTEEN (17) ACRES OF FREEHOLD LAND, THAT WOULD BE UNPROCURABLE TODAY.
This was written in 1976
Election of Officers, Chairman C. Paul, Secretary D. Swire, Committee- J.Wood, C.Paul, L. Gallie, M. Chitty, B. Chaffe,
B.C. Roberts, J. Swire, R. Paul, and R.M.L. Bull
There was a general discussion on a building programme for the Domain, Councillor Tantrum congratulated the district on the fact that they have a Domain. He explained that there was a dollar-for-dollar subsidy from the Sport and Recreation fund, and also the Subdivision and Endowment Funds. The Sports Recreation fund would be available annually. Working Bee, front fence-line and trees to be tidied up.
And so we arrive at the end of the year ended 31st March 1975.